NOAH'S ARK: CRAFT STICK PUPPET OF NOAH AND DOVE
Noah is made from a craft stick. His arms are glued on and the dove's wings are made from cupcake liners.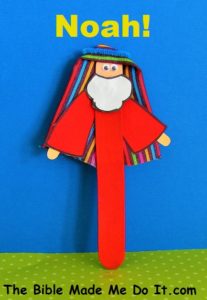 HOW TO MAKE NOAH:
1. Print out the pattern for Noah's sleeves, beard and dove.
2. Paint the craft stick: the head is painted skin colour and the body and sleeves are painted the colour of your choice. Add googly eyes.
3. Glue on the beard and glue the sleeves behind the body as shown in the photo.
4. To form the headpiece: cut out fabric approx. 3″ (8cm) x 8″ (18cm). Fold in half lengthwise (make sure the folded edge faces the front) and drape over the head as shown in the photo. Glue the headpiece to the front of the forehead. Wrap a pipe cleaner around the head. Knot it at the back.
HOW TO MAKE THE DOVE:
1. Print out the dove. Cut out.
2. To make the wing: Take one white cupcake liner. Fold it in half, then in half twice more. Cut out a small leaf shape from the folded cupcake liner. Glue this wing to the dove. Draw an eye in black felt pen.