NOAH'S ARK: made with a paper plate and a bowl!
A simple craft made from a paper plate and a paper bowl! The ark is made from a cut-off paper bowl. This would be a cute plaque to hang on a wall! The ark moves in the waves–by means of a paper fastener in the centre.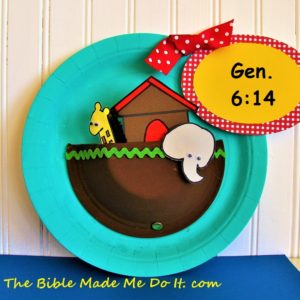 This craft is made from a paper plate and soup bowl!
HOW TO MAKE THE NOAH'S ARK CRAFT:
Cut off the top part of the paper bowl as shown in the photo. Paint it brown and paint the paper plate blue. Adhere a paper fastener to the bowl so that the "ark" can move in the "water."
Trace the patterns from below to finish the ark, the giraffe and the elephant. Glue them on to the ark.