KING XERXES STAND-UP FIGURE
STAND-UP FIGURE OF KING XERXES: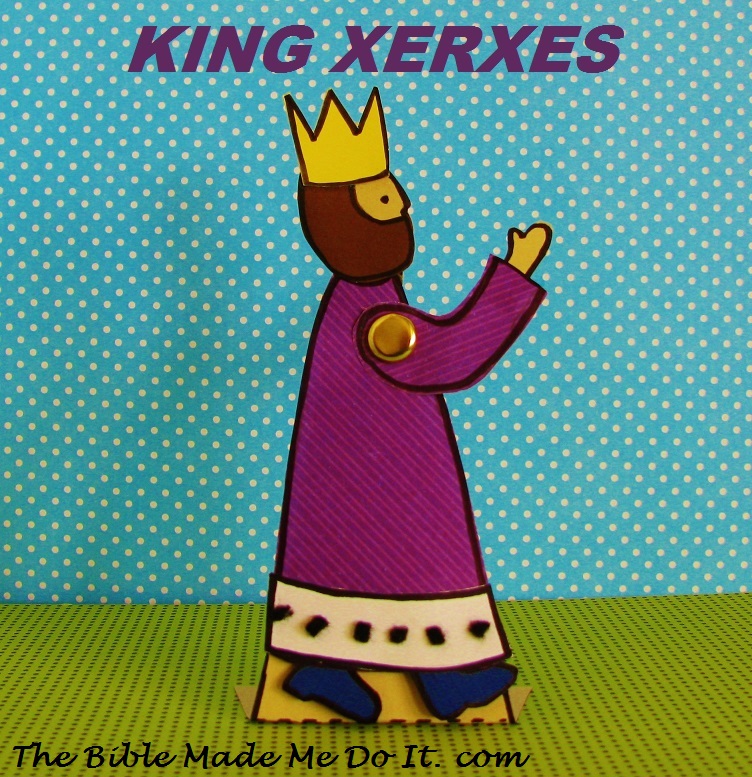 Copy the pattern of King Xerxes on cardstock or paper. Colour and cut out.
The arm is cut out separately.
A paper fastener is inserted so that the arm can be moved up and down.
There are two versions for this craft: You can make a colouring picture from the pattern below or older children might want to make a collage design. For the collage, cut out all of the pattern pieces pictured below. First glue the face behind the beard, then glue both to the robe. The arm is fastened to the body by means of a paper fastener. Add a crown and trim to the robe. Add a cardboard stand so that your figure can stand up!
TO MAKE A STAND FOR A STAND-UP FIGURE:
Cut a piece of cardboard (a cereal box will work fine) approximately 1.4" (3 cm) x 7" (19cm).
Draw a line 2" (5 cm) from the bottom edge of the cardboard strip.
Fold this edge and bend it back.
Glue or tape the back of the strip to the figure. The 2" lower section is not glued. It is placed on the table and enables the figure to stand up. See the photo at the bottom of this page for further explanation.
NOTE: These measurements are flexible. Change them to suit the size and height of your figure.
NOTE: The stand for King Xerxes should be made wider at the bottom to accomodate his feet. See the photograph for details.