MIRIAM WITH BABY MOSES
Miriam is watching over baby Moses. His basket is made from an egg carton. The baby is made from a peanut!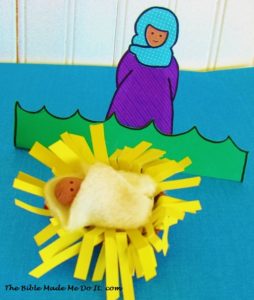 Copy the pattern for Miriam on card stock. Colour and cut out.
Cut out an egg carton cup and paint it brown.
Add yellow-coloured paper strips to the basket to form hay.
The baby is a peanut, painted skin-colour. It can also be left unpainted. The eyes are drawn with felt pen.
The baby is wrapped in a blanket of white felt.
In case of peanut allergies, the baby can be made from an ice cream spoon.
There are two versions of the Miriam figure, one for colouring and one for making a collage:  To make a collage, cut out the interior portion of the hood. Glue a small piece of flesh-coloured paper behind the hood. This forms the face. Add felt pen facial features. Glue the hood to the robe. Using a black felt pen, draw lines on the collage according to the photograph.
TO MAKE A STAND FOR ANY STAND-UP FIGURE:
Cut a piece of cardboard (a cereal box will work fine) approximately 1.4" (3 cm) x 7" (19cm).
Draw a line 2" (5 cm) from the bottom edge of the cardboard strip.
Fold this edge and bend it back.
Glue or tape the back of the strip to the figure. The 2" section is not glued. It stands on the table and enables the figure to stand up. See the photo at the bottom of this page for further explanation.
NOTE: These measurements are flexible. Change them to suit the size and height of your figure. For a stand for Miriam the measurements would be smaller than this.