QUEEN ESTHER MATCHBOX
This tiny matchbox can hold your favourite scripture passage from the Book of Esther.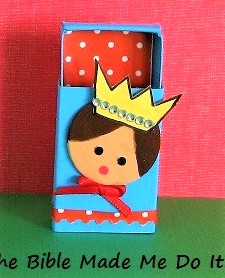 HOW TO MAKE THE MATCHBOX:
1. Paint the matchbox. You can line the inside of the box with scrapbook paper or giftwrap.
2. Esther's face is a 1.25″(3.5cm) circle. Paint on her hair. Add eyes and a mouth. Glue the face to the matchbox.
3. Add a crown to complete your Queen Esther matchbox. Print out the crown pattern from below or design your own. Colour and cut out. Add fancy trims. Glue to the head.