DEBORAH UNDER THE PALM TREE
Make Deborah sitting under a 3-D palm tree! Very easy and fun to make! The palm tree can stand on its own. Cut out the pattern for Deborah and colour it. Now you can make a tableau by sitting Deborah in front of her very own palm tree! If you don't want to make a 3-D tree you can draw one instead.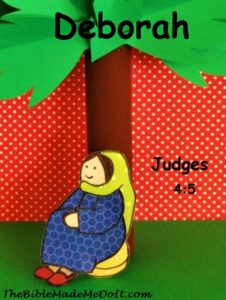 TO MAKE THE PALM TREE:
Cut a cardboard roll (from a tube of aluminum foil) in half lengthwise and paint it brown.
To make the leaves cut out the pattern (below) several times. Fold the leaf in half (length-wise) to give a 3-D look as shown in the photograph.
Glue the leaves to the tree as shown in the photograph. Some of the leaves in front can be made a bit smaller.