MOSES AND THE BURNING BUSH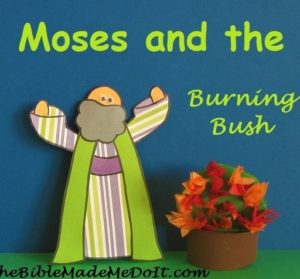 TO MAKE THIS CRAFT YOU WILL NEED:
red and orange tissue paper, a toilet paper roll and a Styrofoam meat tray
HOW TO MAKE THE BUSH:
Cut a circle from the meat tray about 2.5" (6.5cm). Paint green.
Punch holes in the circle with a pencil point.
Cut out "flame" shapes from tissue paper (several layers thick). Pinch the ends together and stick through the holes. Follow the photograph to get the idea. You can slightly "fluff" the "flames" once they are inserted.
TO MAKE THE TRUNK: Cut out about 1" (2.5cm) from the roll and paint it brown. To make the trunk narrower in diameter you can cut it apart in the middle and tape the overlapped edges together.
Cut two slits on the sides of the "trunk" and insert the bush.
TO MAKE MOSES:
Cut out the pattern from below and colour it.
TO MAKE A TABLEAU: Make a cardboard stand as shown in the photo below. Make it tall enough to fit the figure of Moses yet wide enough that it will provide support. Tape it to the back of the figure. Moses will now be a 3-D figure who can stand on his own!