THE WEDDING AT CANA
Make Mary, the Mother of Jesus, from a craft-stick. Copy the pattern from below to make her arms and glue to the back of the stick. Draw the facial features and the hair. To make the jug, copy the pattern from this page.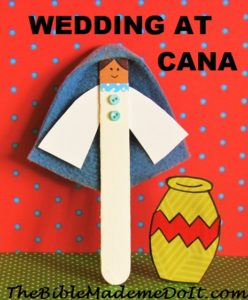 To make Mary's veil, cut fleece or felt 7″(18cm) x 2″(5cm) and glue to the top of the head as shown in the photograph.
TO MAKE A TABLEAU:  (to make the jug stand up on its own) make a cardboard stand as shown in the photo below. Make the stand the proper size to fit the jug and tape it to the back. It will now be a 3-D figure that can stand on its own.