BISHOP ZUMARRAGA
Make a plastic spoon figure of Bishop Zumarraga. He was the first Archbishop of Mexico City and was present when the image of Our Lady of Guadalupe was imprinted on Juan Diego's tilma. He witnessed this great miracle along with a few others who were in his room at the time.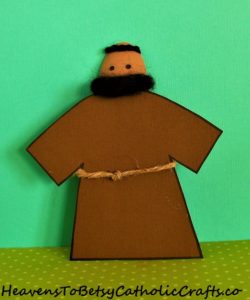 Make a spoon puppet of Bishop Zumarraga in his distinctive Franciscan habit!
1. Paint the head of the spoon.
2. Print out the robe, colour, and cut out.
3. Glue the robe to the head of the figure as shown in the photograph.
4. Add facial features. A painted tonsure, paper beard and a rope tie all add a Franciscan touch!