ST. JUAN DIEGO SPOON PUPPET
Make a St. Juan Diego puppet from a plastic spoon. The image of Our Lady of Guadalupe is cut from a holy card and is glued to the front of his tunic.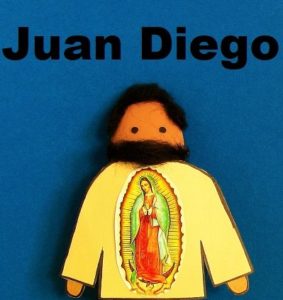 MAKE A SPOON PUPPET OF ST. JUAN DIEGO:
  This is a very easy technique to make a doll with two legs (wearing pants!) FOLLOW PHOTO INSTRUCTIONS BELOW!
1. Glue a popsicle stick to the back (or front) of the spoon as shown in the photo. This is the second leg.
2. Paint the face and the feet of the spoon doll. Add facial features, hair, and a beard.
3. Print out the pattern for the tunic, colour and cut out. Glue a picture of Our Lady of Guadalupe on the front of the tunic.
4. To form the pant legs, cut out 2 pieces of paper .75″(1.5cm) x 1.5″(4cm)
5. Glue the pant legs to the legs of the doll as shown in the photo below.
6. Glue the tunic to the spoon. The robe or tunic will cover the upper part of the pant legs. Use the Mexican man's tunic for the pattern.