PIUS Xll TOILET PAPER ROLL FIGURE WITH SATURNO HAT
Pope Pius Xll often wore a Saturno hat around Rome. Here is a very easy way to make a Saturno hat: Use one half of a plastic Easter egg!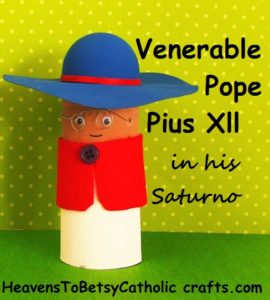 1. Paint the toilet paper roll using the photo as a guide.
2. To make the cape: Cut out a strip of felt 6″ (15cm) x 1.5″(4cm). Round off the front edges. Glue to the roll.
TO MAKE EYEGLASSES:
1. Cut a length of wire about 4″(10cm). Leave an end of approx. 2″ (5cm).
2. Wind craft wire around a pencil two times (to form the lenses), then bend the two ends to the side of the figure.
3. Make two tiny holes on each side of the head and insert the wire ends into the holes.
TO MAKE HIS SATURNO HAT FOLLOW THE PHOTO DIRECTIONS BELOW:
NOTE: A Saturno hat is made exactly the same as a sombrero but the ROUNDED part of the Easter egg is used instead of the pointed part. Paint the hat and add a ribbon band.