ST. DAMIEN: SPOON PUPPET
An easy and quick spoon puppet to make. His eyeglasses look real—and they are very simple to make!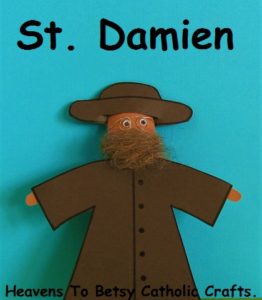 SPOON PUPPET:
1. Paint the "head" of the spoon in a skin colour.
2. Print out the robe, colour and cut out.
3. Glue the robe to the head of the figure, slightly above "chin level" so that the face will be in proportion to the rest of the figure.
4. Add facial features and yarn beard.
TO MAKE FATHER DAMIEN'S HAT:
Cut out the pattern and add felt pen markings as shown in the photograph. Cut a slit at the lower brim of the hat and insert the hat on the head.
TO MAKE FATHER DAMIEN'S GLASSES:
1. Cut a length of wire about 4″(10cm). Leave an end of approx. 2″ (5cm).
2. Wind craft wire around a pencil two times (to form the lenses), then bend the two ends to the side of the figure. Glue in place.