St. Damien is  very easy to make! He is made from a toilet paper roll. You can make his Saturno hat quickly—from a plastic Easter egg! Don't you love his signature eyeglasses? They are SUPER simple to make from craft wire wrapped twice around a pencil.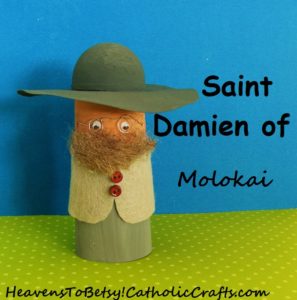 TO MAKE FATHER DAMIEN:
1. Paint the toilet paper roll using the photo as a guide.
2. To make the cape: Cut out a strip of felt 6″ (15cm) x 1.5″(4cm). Round off the front edges. Glue to the roll. Glue on a beard and eyes.
TO MAKE EYEGLASSES:
1. Cut a length of craft wire about 4″ (10cm). Leave an end of approx. 2″ (5cm).
2. Wind craft wire around a pencil two times (to form the lenses), then bend the two ends to the side of the figure.
3. Make two tiny holes in the head and insert the wire ends into the holes.
TO MAKE A SATURNO HAT WITH AN PLASTIC EASTER EGG:
Follow the directions for making a sombrero. The only difference is that the rounded, not the pointed part of the Easter egg is used. Paint both in the colour of your choice. If you make the brim the same colour as the Easter egg crown you won't have to paint it at all!