Learn a new and fun easy craft! Form felt baskets by shaping damp felt over a play-dough mould. Spread on a mixture of glue and water, let dry and—presto—-a basket! Follow the photo directions below for instructions.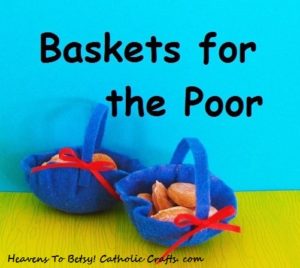 Mother Teresa used to bring baskets of food for the poor. You can make your own miniature felt baskets. They are so easy and fun to make. You can also make tiny breads from salt dough to fill them with. If you make the baskets in Easter colours—they make ideal tiny Easter baskets!
This is a new craft for children to learn: Just follow the photo directions! If you don't have STIFFY (a commercial fabric stiffener) you can use a diluted mixture of white glue and water. Just add a handle and you have a basket for breads.
When you remove your dry "basket" from the mould, just turn it upside down and there is your basket! You just have to cut off the excess edges. And add a felt handle as in the photograph.
TO MAKE THE BREADS:
Follow the salt dough recipe. Use bottle caps to cut out the tiny breads and bake according to the directions. Sprinkle on a bit of flour before you bake them to add an authentic look.
SALT DOUGH RECIPE
1 cup salt
2 cups flour
1 cup water
Gradually stir in water. Mix well and knead the mixture until smooth. Bake in oven at 250 degrees for 2 hours. Store in the fridge. It is best if used within a few days.