A super-simple spoon doll to make: her dress is a folded circle, her body is a plastic spoon and her arms are popsicle sticks which are glued to the back of the figure! Use this Mexican Lady spoon puppet to teach the story of Our Lady of Guadalupe. For her hair glue on strands of yarn. Her "bun" is made from  knotting a few strands of yarn together. The "knot" is glued to the back of the head.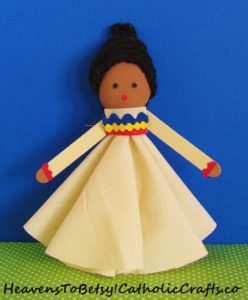 Follow the photos below for instructions on making the spoon doll.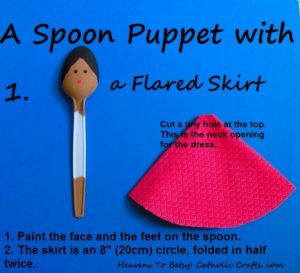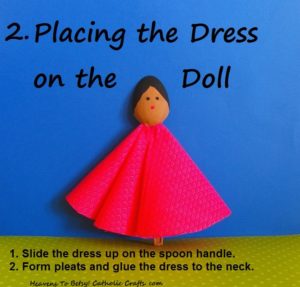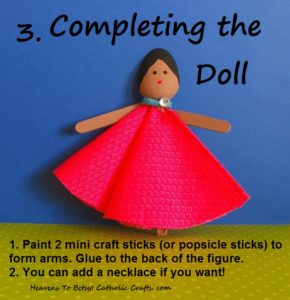 This is a quick and easy puppet to make—the skirt is a circle, folded in quarters. The bodice is a strip of fabric which is glued onto the doll. The dress can be made of paper or fabric.
1. Paint the face portion of the plastic spoon.
2. To form the arms, glue 2 popsicle sticks (or mini-craft sticks) to the back of the figure. If the popsicle sticks are too long, a piece can be broken off and the broken edges can be wrapped with tape for safety.
3. Paint the arms the same colour as the face.
TO FORM THE SKIRT OF THE DRESS:
1. Cut a circle of fabric (or paper) 8″ (20cm) in diameter. Fold the circle in half, then in half again.
2. At the centre-point make a tiny snip through all layers of the fabric, just large enough to slip over the spoon handle. Insert the skirt through the opening and slide it over the spoon handle.
4. Form small pleats at the neck edge. Glue down at the neck edge slightly above the chin level. Form some large pleats in the dress and glue them down with tiny bits of glue (just in spots!)
TO FORM THE BODICE OF THE DRESS: Cut a small strip of fabric (or paper) . Glue the centre section to the front of the figure (covering the top part of the skirt), overlapping the ends at the back. Glue in place.
 THE BODICE IS MADE BEFORE THE ARMS ARE GLUED ON TO THE PUPPET.
You can paint the "sleeves" to match the dress. You can also paint the arms a  skin colour for a sleeveless dress.
To finish the doll add yarn hair and facial features.