ANTHONY, ST. OF PADUA: Preaching to the fish
Celebrate the miracle of St. Anthony's preaching to the fish with this craft. The fish are crackers and the sea is a paper plate. St. Anthony is made from a wooden ice cream spoon. His Franciscan robe is glued on.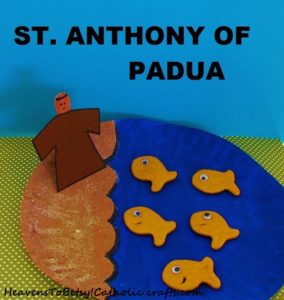 TO MAKE THE SCENE:
Paint the paper plate as shown in the photograph. Real sand can be glued on to the "beach." Fish crackers are glued to the plate. Use the pattern below for the Franciscan robe, cut out and colour. Glue to the ice cream spoon, add facial features, and his tonsure with felt pen. To make the figure stand you can use a cardboard stand as shown in the photo below from a piece of cardboard cut to fit the back of the figure.