12. ST. BERNARDINE IN THE TREE
St. Bernardine of Siena (1380-1444) was a Franciscan priest and missionary who travelled all over Italy preaching about the faith. He is known as "the Apostle of Italy." He was such a wonderful preacher that he had to preach in the marketplace—no church could hold all the crowds who came to hear him! At times he even had to perch in a tree to make himself seen and heard!
St. Bernardine is made from a wooden ice cream spoon. His brown habit is glued on. The tree trunk is made from a toilet paper roll.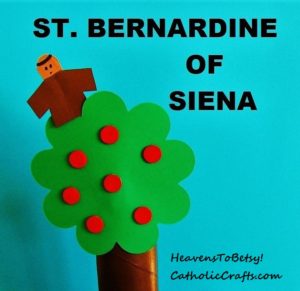 To make the tree use the pattern below for the green foliage. You can add apples if you want! The trunk is made from a toilet paper roll. Cut one layer of green paper to make the foliage. Glue it to the tree trunk as shown in the photo.
To make the saint, use the pattern below to make the friar's brown outfit. Cut out and glue to an ice cream spoon to form the body. Add felt pen facial features. Cut a slit in the tree and insert the figure. Use the photo as a guide.