4. PADRE PIO AND WORLD WAR ll
During World War ll, many pilots reported that they had seen a "flying monk"in the skies over San Giovanni Rotondo, Italy. They found that their planes were diverted and that they were unable to drop their bombs over the area! When they later went to visit St. Padre Pio (1887-1968) in this same area, they recognized him as the friar they had seen in the sky!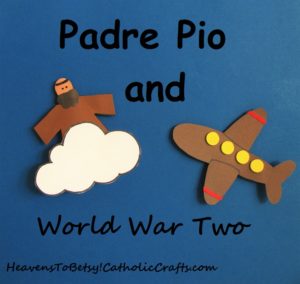 To create this amazing scene, copy the patterns below to make the cloud and the airplane. To make the friar, copy the friar's robe onto brown paper and glue it to an ice cream stick. Colour in the facial features with a felt pen. Complete the scene as shown in the photograph.