Even a very young child can make this adorable stick puppet of Queen Esther!
STICK PUPPET
Paint the lima bean "head". Glue it to a craft stick. Add yarn hair and facial features.
Cut a 6" (15 cm) circle of fabric or paper for the dress.
If you are making an angel cut a 4" (10 cm) circle of fabric or paper for the wings. Fold it in half.
Find the centre point of the "dress" by folding the larger circle in half and then in quarters.
Make a tiny snip at this point, just enough to slide the craft stick through. Glue the dress in place at the neckline. Re-fold dress at the sides according to the photo. Glue down.
To make an angel, glue the wings to the centre-back of the dress.
To make Queen Esther, add a paper crown and decorate her dress: Ditali pasta, painted a bright blue, is the trim on the dress! Children will have fun designing their very own version of Queen Esther's crown!
MORDECAI'S DREAM: STORYTELLER GLOVE
Copy the patterns on to card stock and cut out on a doubled layer of felt.
Stuff the figures lightly with fiberfill.
The figures can be sewed by hand or glued. Follow the photo for details.
The figure of Mordecai is a finger puppet and is not glued to the glove.
The other figures can be glued to the glove or adhered with Velcro so that they can be removed or added as needed to tell the story of Mordecai.
Only one layer of "spikes" is cut out. This is placed between the two layers of the dragon.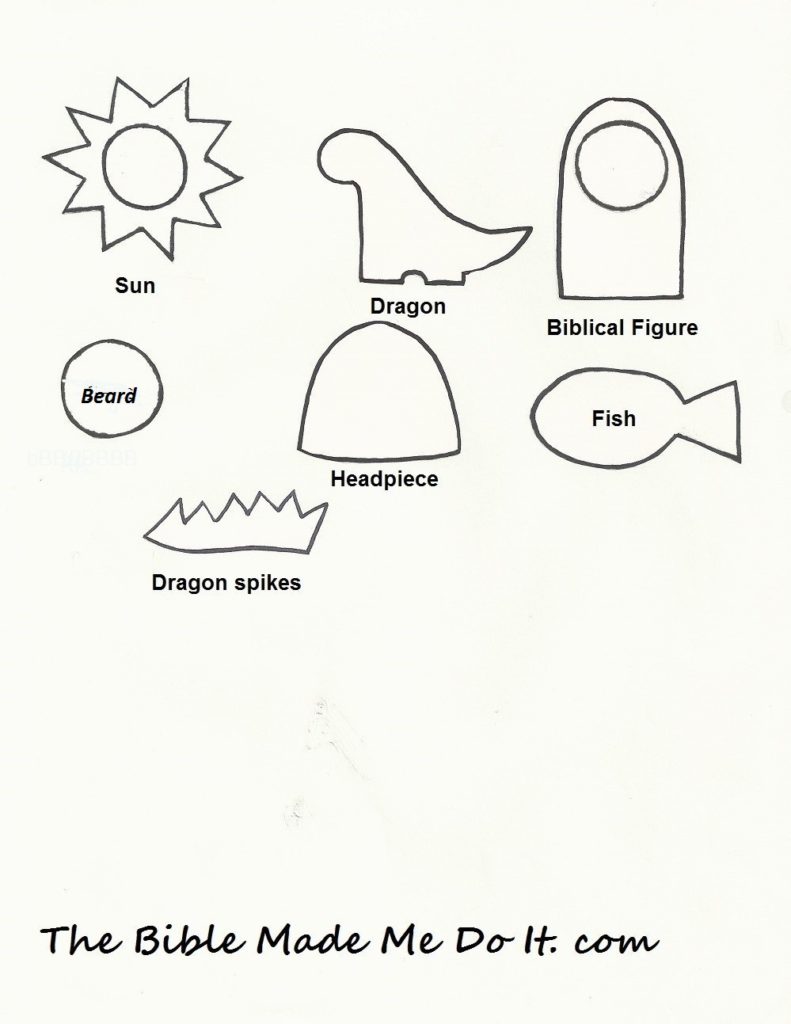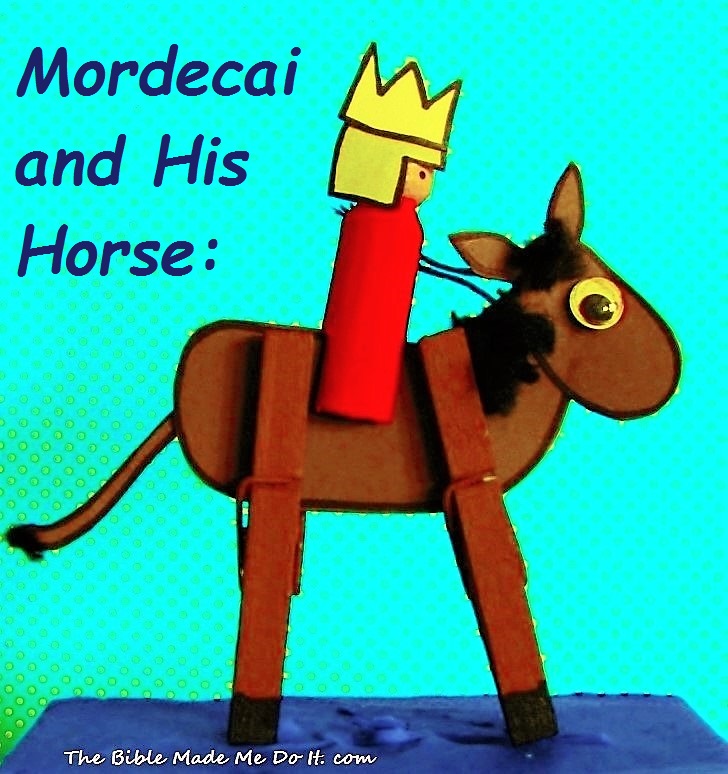 Mordecai was given a horse and crown by King Xerxes (Esther 6:8)
TO MAKE THE HORSE:
Copy the pattern on card stock for the horse's body and head. Paint and cut out.
Glue the horse's head to the body.
Paint the clothespin "legs" and clip to the horse.
Glue on yarn for the mane and a googly eye.
Make a tail from a narrow strip of cardstock and add yarn for the tip of the tail.
TO MAKE THE PEG DOLL:
Cut off 1.25″ (3 cm) from the bottom of the peg. Lightly sand the rough edges. Paint the doll.
Cut out the pattern for the hair and crown and glue it on to the head according to the photograph.
Add an eye with felt pen. Place the doll on the horse.
To make the reins, glue on a length of yarn or embroidery floss to make it look as though Mordecai is holding on to them.