ANGEL PUPPET WITH CUPCAKE LINER WINGS
A quick to make angel. Her head is a lima bean and her wings are made from cupcake liners. Her body is a popsicle stick.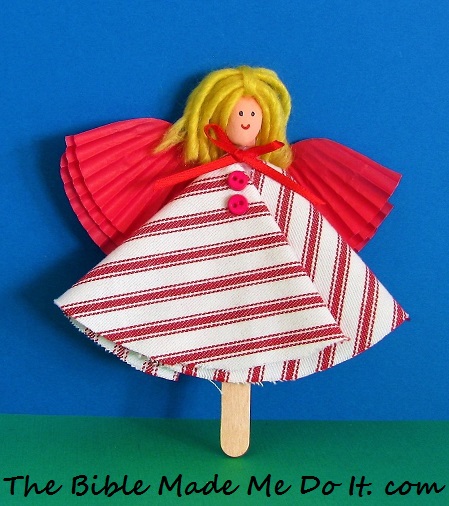 HOW TO MAKE THE ANGEL:
1. Glue a lima bean to a popsicle stick. Draw on a mouth and eyes. Glue on yarn hair.
2. To make her dress cut a 6″(15cm) circle . Fold in half. Then fold the sides down to shape the dress.
3. Make a tiny hole in the very centre of the folded circle, just large enough to insert the popsicle stick. Slide up the dress to the "neck' of the angel. Glue in place at the neck.
4. To make the wings, fold 2 or 3 cupcake liners in half. Place one on top of the other. Cut an elongated half-moon shape from the upper middle section of the liners (as shown in the photograph).
5. Glue the wings to the back of the puppet.