RUTH MARRIES BOAZ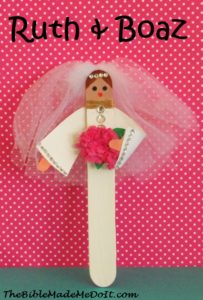 Make Ruth from a craft-stick! Glue on her arms and add a tulle veil.
To make the arms, cut out the sleeve pattern and glue to the back of the craft-stick.
To make Ruth's bouquet, cut out a small circle of cardboard. Pinch together tiny pieces of pink tissue paper and glue to the cardboard. Glue bouquet to the figure's hand. Add a couple of green leaves to complete the bouquet.
To make the tulle veil gather together a length of tulle at the top with a long gathering stitch and pull tightly, making a strong knot on the end. Glue to the back of the head. Add rhinestones from the Dollar Store to complete the outfit.