DEBORAH UNDER THE PALM TREE
Make Deborah sitting under a 3-D palm tree! Very easy and fun to make! The palm tree can stand on its own.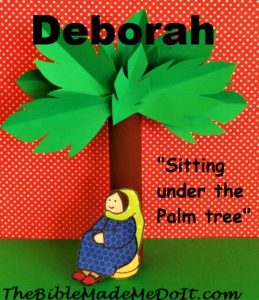 To make the 3-D palm tree, first start with a cardboard tube from a roll of aluminum foil.
Cut it in half lengthwise and paint it brown.
Cut out several palm leaves and glue to the tree as shown in the photograph.
Some of the leaves at the very front are a bit smaller than the pattern.
Copy the pattern for Deborah, colour and cut out. You are now finished your project!