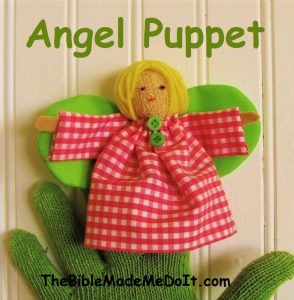 HOW TO MAKE A FINGER PUPPET FROM A GLOVE:
Make a finger puppet with a lovely 3-dimensional face from a simple glove! Just cut off the fingertip of a glove, stuff it with fibre-fill or cotton batting, tie it tightly at the neck and your puppet's head is made!
Form a piece of cardboard into a tube (to fit your child's finger) and—you have now made the body of the puppet! The head is then glued into this tube.
The robe is mostly glued on—only five minutes are needed to sew and gather the neck of the robe which is glued around the puppet's neck. The sleeve is glued on to the back of the puppet. It's as easy as that! Follow the photo directions to make the puppet! Hair is made from yarn. The beards for the men are made from yarn or you can use unspun yarn (available from Amazon). Have fun making a whole array of Bible puppets! To make the angel's wings, just make a very wide heart shape—and your wings are done!