Make the Elijah puppet from a craft-stick! Glue on his arms from the pattern below and add a beard and eyes.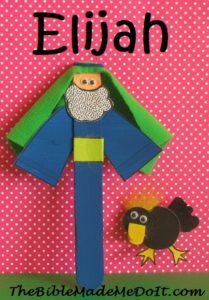 To make his headpiece cut out fabric 6″(15cm) x 2″(5cm). Glue on the top of his head as shown in the photograph.
To make this raven (don't you think this one is full of personality!) just cut out two circles, one smaller for the head and one larger for the body. To complete the raven just copy the photograph, adding a bill, googly eyes etc.