Make Elijah sleeping under the Broom Tree! The tree trunk is made from the cardboard tube from a roll of aluminum foil. It is firmer than a tube of paper towels and is thus more sturdy and can stand up on its own.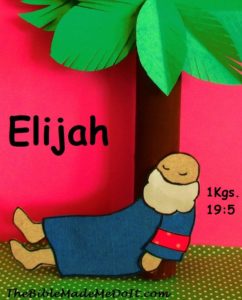 To make the figure of Elijah print out the pattern below, colour and cut out.
TO MAKE THE PALM TREE:
Cut cardboard roll in half lengthwise and paint it brown. To make the leaves cut out the pattern (below) for the leaf several times on green paper. Cut into the palm leaves several times (see the photograph above) to make a fringe effect. This makes it look more like a Broom tree! Glue the leaves to the tree as shown in the photograph. Now—you have Elijah sleeping under the Broom Tree!