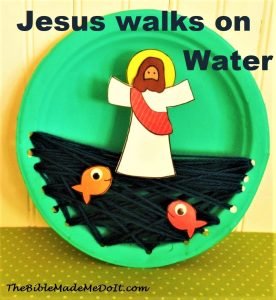 This is an easy and fun craft to make! All you need is a paper plate and some yarn.
HOW TO MAKE THIS CRAFT:
First paint the paper plate aqua.
Cut out the picture of Jesus and colour it.
TO MAKE THE WATER: First, punch holes all around the paper plate as shown in the photo.
Take a length of yarn and TAPE it to the back as shown in the photo below. Very important!
Take the YARN through to the front through one of the holes and insert it into another hole.
Continue until the "lake" is completed to your satisfaction. It is important to tape all yarn ends to the back.
See the photo below to see what the back of the plate looks like.
Glue on the picture of Jesus and add some fish!