This craft will be a must for every parent and teacher of Bible crafts! It will be used over and over again in the telling of many Bible stories. And it is so easy to make!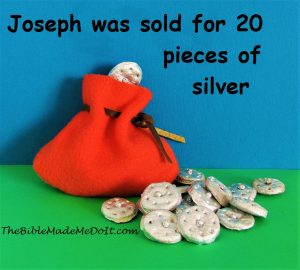 Start by cutting out 2 pieces of the pattern below in felt or fleece. Glue or sew the sides together. Cut out holes to insert a cord. Now you have made your money bag! To make the silver coins follow the recipe for making the salt-dough mixture.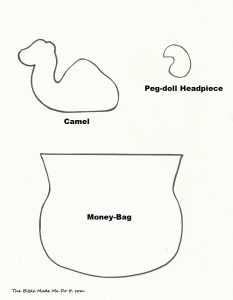 SALT DOUGH RECIPE:
RECIPE: 4 cups all-purpose flour, 1 cup salt, I.5 cups of warm water
Mix well together using a wooden spoon.
Knead for about 5 minutes or more until pliable.
Roll out between 2 sheets of parchment paper.
To make coins, cut out with bottle cap "cutters" and make markings with a straw, tip of a knife etc. See photos for ideas.
Bake at 250 degrees for about 1 to 2 hours.
Paint silver or gold.
Seal with MODGE PODGE or a spray sealer to preserve the finish.