Make a JOSEPH PUPPET from a plastic spoon!
Joseph's robe is glued on to the spoon. Note the vertical pleat down the centre! This gives the robe a smart, tailored look and is so easy to do!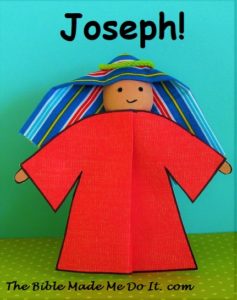 TO MAKE THE SPOON PUPPET:
Paint the head of the spoon in a skin colour.
Print out the robe, colour and cut out.
 Crease the front, lengthwise, to form a pleat. This adds some texture and dimension to the garment.
Glue the robe to the head of the figure slightly above the chin level.
Add facial features.
TO MAKE THE HEAD-PIECE:
Cut out fabric 2″ (5cm) x 8″ (20cm). Fold in half lengthwise. The folded part should face the front and the raw edge should face the back. Glue the head-piece to the crown of the head as shown in the photo. Tie a pipe cleaner around the head.