Who will reach the ark first? The zebra or the giraffe? Find out in this toss game, a game designed for two children to play.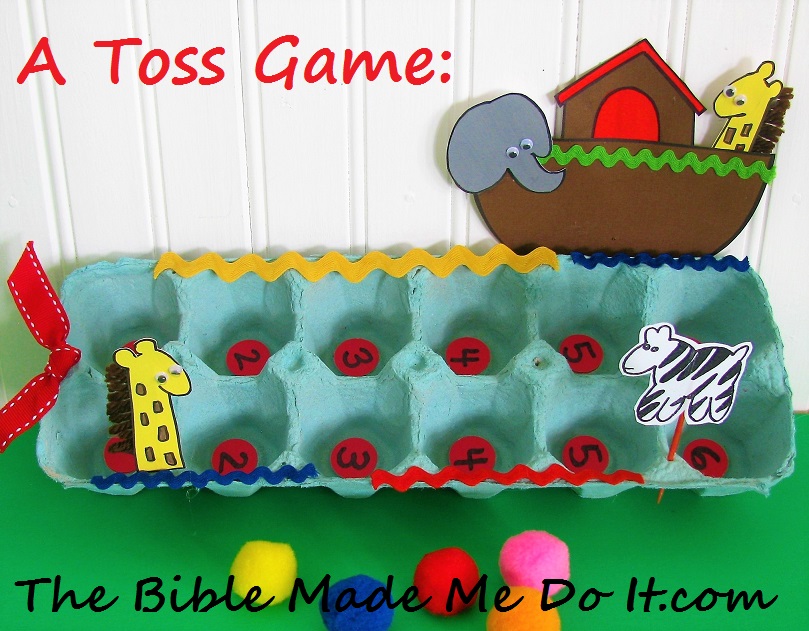 HOW TO MAKE THE GAME:
1. Paint or spray-paint the egg carton. Decorate it with ribbon, trims etc. Write down the numbers from 1 to 6 in each of the two columns of the egg carton. Cut a tiny slit in each of the 12 sections of the egg carton.
2. To make the two "markers"—the zebra and the giraffe—print out the pattern, colour and cut out. To make the animals sturdier, you could back them with a smaller piece of cardboard.
3. Tape a toothpick to the back of each animal. This enables the animals to be "moved along" their pathways: the toothpick is inserted into the slits made in the egg carton.
HOW TO PLAY THE GAME:
1. One side of the carton is for the zebra. The other side is for the giraffe.
2. The first child (acting as the zebra) tosses a pompom into the egg carton. The second child (acting as the giraffe) does the same. The child who tosses the pompom into the egg cup with the higher number, moves his/her animal one space ahead. Each egg cup counts as one space. In the case of a tie, the chldren try again. The object of the game is to see which animal reaches the ark (the sixth section of the egg carton) first!
VARIATION:
There can be many variations to this game: For example, for older children, the first child tosses one pompon into the egg cup, then another. He/she then adds up the two numbers. The second child does the same. The child with the higher number moves one space ahead. Multiplication tables could also be drilled in this way!