This is a fun game for two or more children. The "game-pieces" are five small stones.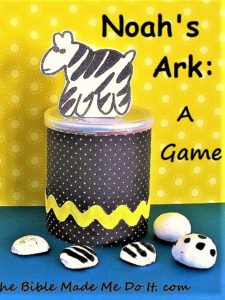 TO MAKE THE GAME:
1. Wash and dry the stones. You can then paint them white or leave them unpainted. Paint black and white "zebra stripes" on ONE side of four stones. Paint black dots on ONE side of the fifth stone.
2. Cover the can with gift-wrap or scrapbook paper. You can make a zebra to decorate the can, using the directions below:
3. Print out the zebra pattern BELOW and cut out. TO MAKE A STAND FOR THE ZEBRA: Cut out a tab from cardboard 3.35″(9cm) x 1″(2.5cm). Measure a line 1″(2.5cm) from the top.  Fold the tab back along this line. Glue the long part of the tab to the back of the zebra. The shorter part stands on the lid of the can to enable the zebra to stand up.
TO PLAY THE GAME:
1. Place the stones in the can.
2. The first child shakes up the can and then spills the stones out on the table.
3. Zero points are awarded for each stone that lands "blank side" up. Two points are awarded when the spotted stone lands face up. One point is awarded when the stone lands striped side up. The children keep a tally of their scores. The player at the end of a few rounds (designated beforehand) with the most number of points is the winner! He or she is the one who SPILLS THE BEANS first for the next round!