Who will crown Queen Esther? Find out in this toss game. The winner gets to crown Queen Esther! How? By buttoning on the crown to Queen Esther's forehead.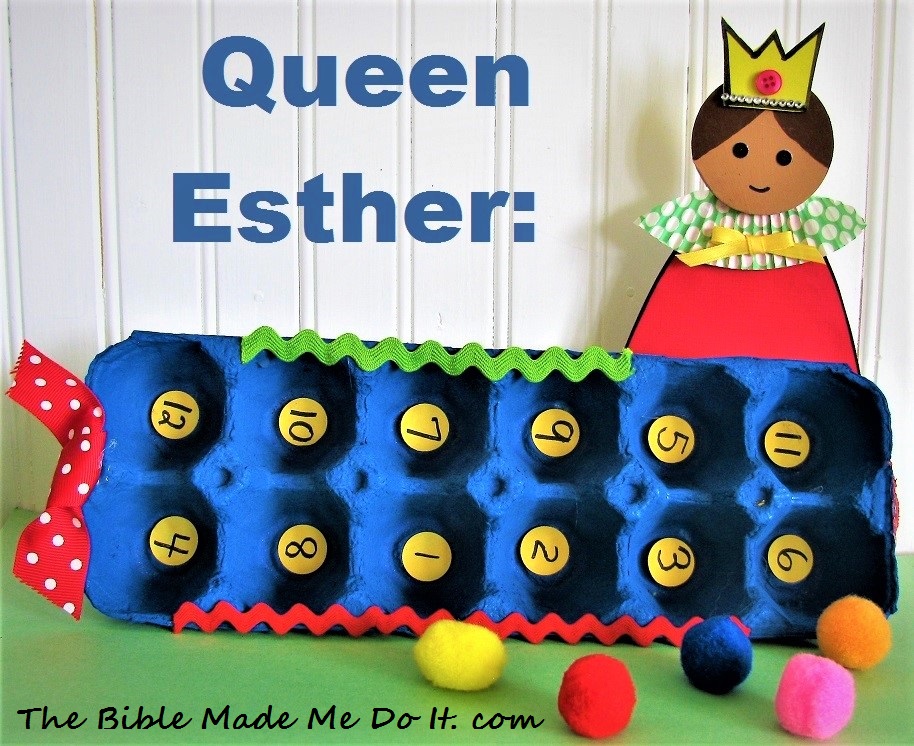 HOW TO MAKE THE GAME:
1. Paint or spray-paint the egg carton and decorate it.
2. Write the numbers from 1 to 12 in the egg carton cups in random order.
HOW TO MAKE QUEEN ESTHER:
1. Print out the pattern for Queen Esther's body and head. Trace the pattern onto sturdy cardboard. Cut out and colour.
2.  Paint the face and hair. Add mouth and eyes. Glue the head to the body.
3. GLUE A BUTTON onto the middle of the forehead.
4. Print out the pattern for the crown, cut out and trace it onto yellow felt or craft foam. Cut out the crown and add "jewels." CUT A SLIT in the crown to align with the button on the head.
NOTE: Queen Esther can be placed flat on the table beside the game. For photographic purposes it was taped to the game but it is actually sturdier (for crowning!) if it is flat on the tabletop.
HOW TO PLAY THE GAME:
The child with the highest score at the end of a certain number of rounds (the number of rounds is designated before the game begins) gets to crown Queen Esther.
1. The first child tosses the pompom ball into the egg carton. If it lands in a cup with an EVEN number the child scores a point. An odd number scores a zero.
2. The child with the highest score after, say, five rounds, is the winner and gets to crown Queen Esther.
VARIATIONS:
There are many variations possible with this game: The child has TWO tosses and has to add up the total. The next child does the same. Whoever has the highest total scores a point. The game continues in this way.