QUEEN ESTHER SPOON DOLL PUPPET
Queen Esther is made from a plastic spoon. Just print out the dress and glue onto the spoon. You might want to make more than one dress—in that case glue on Velcro dots to the doll and the dress to change outfits. You might even want to have a CONTEST: "DESIGN A GOWN FOR QUEEN ESTHER!"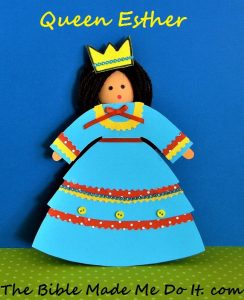 HOW TO MAKE THE PUPPET:
1. Paint the face of the spoon. Add eyes and a mouth. Glue on yarn hair. You can also paint on the hair. Add hands.
2. Print out the dress pattern. Colour, cut out and add buttons, bows, and trims of your choice. Add a crown.