PUPPET THEATRE: The theatre is made from a tissue box that has an oval opening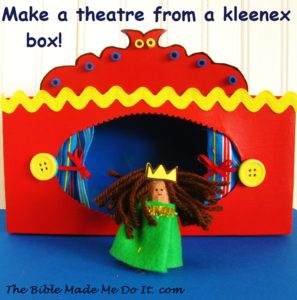 Make the decoration on top of the theatre from cardboard. Trace out on cardboard, cut out and paint to match the theatre. Fold it back on the dotted line and glue this folded edge to the  front edge of the box as shown in the photograph.
Paint the theatre. The brighter the better! Paint the inside a contrasting colour.
Add fabric curtains, buttons and painted Ditali pasta for decorations (small tubular shaped pasta).
To enable the puppets to "move" cut a slit in the "floor" of the theatre and the puppets can move back and forth through the slit.