A quick and easy Bible craft to make: Zacchaeus is a bottle cap! The tree trunk is the cardboard tube from a roll of paper towels. No gluing is necessary except for his beard and his eyes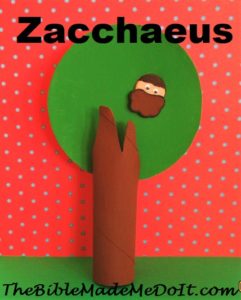 Make the tree by tracing around a plastic lid from a large margarine container (or similar). Cut out the circle and paint it green. This one is 6″ (15cm) around.
To make the brown tree trunk, cut off a section of the cardboard tube from a roll of paper towels. This one is 7″(18cm) in length. Paint it brown. Cut a notch or two in the "top" of the trunk according to the photograph above. Make a slit in both sides of the trunk and insert the tree. The tree should be able to stand alone.
To make Zacchaeus, paint a BOTTLECAP and glue on  googly eyes and a beard. His hair can be painted on. Zacchaeus is now complete!
TO INSERT ZACCHAEUS INTO THE TREE: trace around the bottlecap and cut out the circle on the tree where you want Zacchaeus to be. Zacchaeus should fit snugly into the cut-out circle. Hint: Make the circle SLIGHTLY smaller than the bottlecap so that it is a snug fit!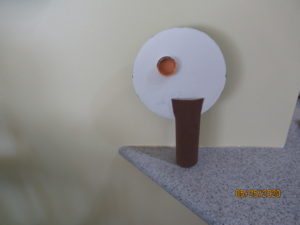 This is the back of the tree. Note that the bottlecap (the head of Zacchaeus) is inserted into the hole which is cut according to the size of the bottlecap.